CELEBRATING HISPANIC HERITAGE AND DIVERSITY
We celebrate National Hispanic Heritage Month this year from September 15th to October 15th.  The month honors anniversaries of independence for Latin American countries of Mexico, El Salvador, Costa Rica, Honduras, Guatemala, and Nicaragua. (Library of Congress)  During this month we focus on the contributions Hispanic Americans have made to American culture.  
Hispanic Heritage Month is a wonderful opportunity to honor the rich Hispanic culture in our communities. It is also a time for our public schools to remind students and children of all ages of the value of diversity.  Our districts' dual-language schools and bilingual education programs help to bridge language barriers and promote education equality.  Local public schools help immerse students in the culture and language of Latin America to understand traditions, folklore, values, and mannerisms.  
What is diversity?
Merriam-Webster defines diversity as "the inclusion of different types of people, such as people of different races or cultures, in a group or organization." Other forms of diversity include gender, age, sexual orientation, religion, and socioeconomic background.  Our public schools welcome diversity in all forms in order to provide a safe and consistent educational experience for all students.
Why diversity matters
Embracing diversity allows school children the opportunity to learn from differences rather than feeling intimidated.  It is important in fighting discrimination and increasing acceptance.  Therefore, the diversity present in public schools provides students with different perspectives.  It also teaches appreciation and respect for world cultures. (AMP Global Youth)
Diversity statements
Schools around the country are drafting diversity statements, and many colleges and universities are encouraging applicants to provide personal diversity statements.  A diversity statement is a document explaining a person or a group's commitment to diversity.  These statements allow a group, such as a school district, to clarify their plan to embrace diversity within their administration, campuses, and curriculum.  Individual, or personal, diversity statements allow one to elaborate on their own background and experiences.  Additionally, these statements can help to show a prospective college or employer how an applicant will contribute to the diversity of the organization. (How to Write a Diversity Statement)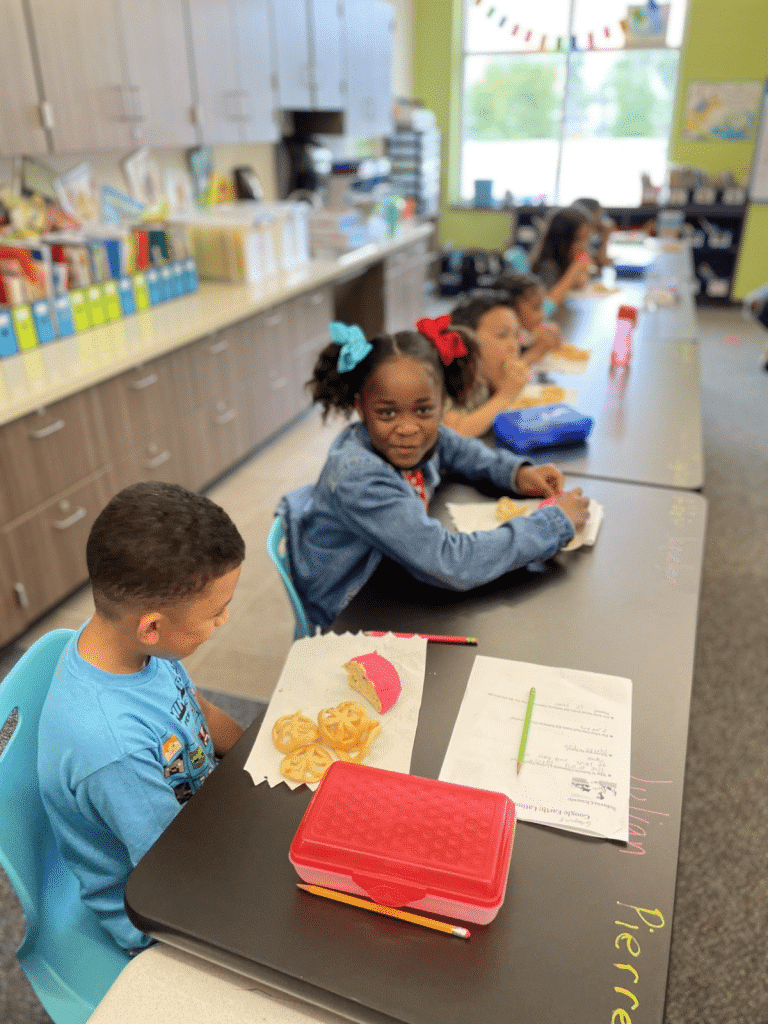 Humble ISD elementary students were thrilled to snack on traditional Mexican conchas! 
Advanced Culinary students in Deer Park ISD kicked off Hispanic Heritage Month by learning to make fresh-pressed tortillas and flan.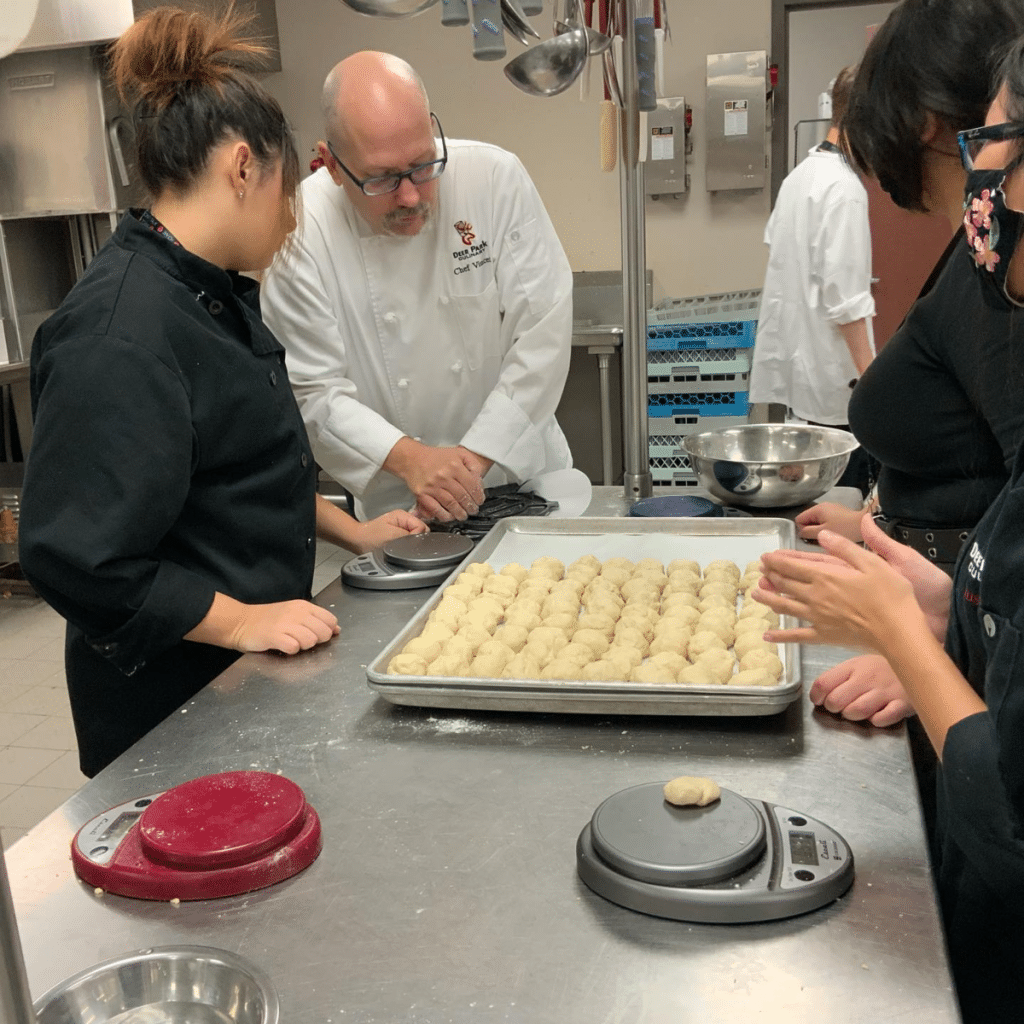 Bilingual and Dual Language Programs in Public Schools
Dual Language and bilingual programs aim to promote diversity within public schools.   Bilingual teachers speak the class' native language while slowly transitioning to teaching in English. These classes prepare English Language Learners to join their peers in regular classes.  Public school dual-language classes include both native English speakers as well as English Language Learners. Half of the lesson is spoken in Spanish and the other half in English. Because of this, these students are all given the opportunity to learn a new language as well as new cultural lessons. Both dual language and bilingual programs are similar to Spanish immersion programs in that they are immersing students in a new language- English.
Why Dual Language programs are important
Dual Language programs benefit students by encouraging positive attitudes toward peers of different backgrounds and heritage. (ACTFL)  
Students in dual language programs can compete globally, and they earn an average of 20% higher wages. (Vittana.org) 
Early language learners show enhanced cognitive skills and academic successes. (National Academies of Sciences Engineering Medicine)
Hispanic Heritage and Literature
Hispanic and Latinx literature provides an excellent opportunity to teach students about the rich Hispanic culture during Hispanic Heritage Month and year-round.  Picture books, chapter books, and graphic novels can help young people explore identity, immigration, discrimination, and influential Latin American people in history. 
Alma and How She Got Her Name by Juana Martinez-Neal is listed as a 2019 Caldecott Honor Book.
This children's book touches on how for one little girl, her very long name tells the vibrant story of where she came from — and who she may one day be.
Find more recommendations for 9 Must-Read Children's Books for National Hispanic Heritage Month.
I Am Not Your Perfect Mexican Daughter by Erika L. Sánchez 
This poignant and funny contemporary novel describes the feelings of losing a sister and finding yourself amid the pressures, expectations, and stereotypes of growing up in a Mexican American home. 
Discover more YA Books to Read for Latinx & Hispanic Heritage Month.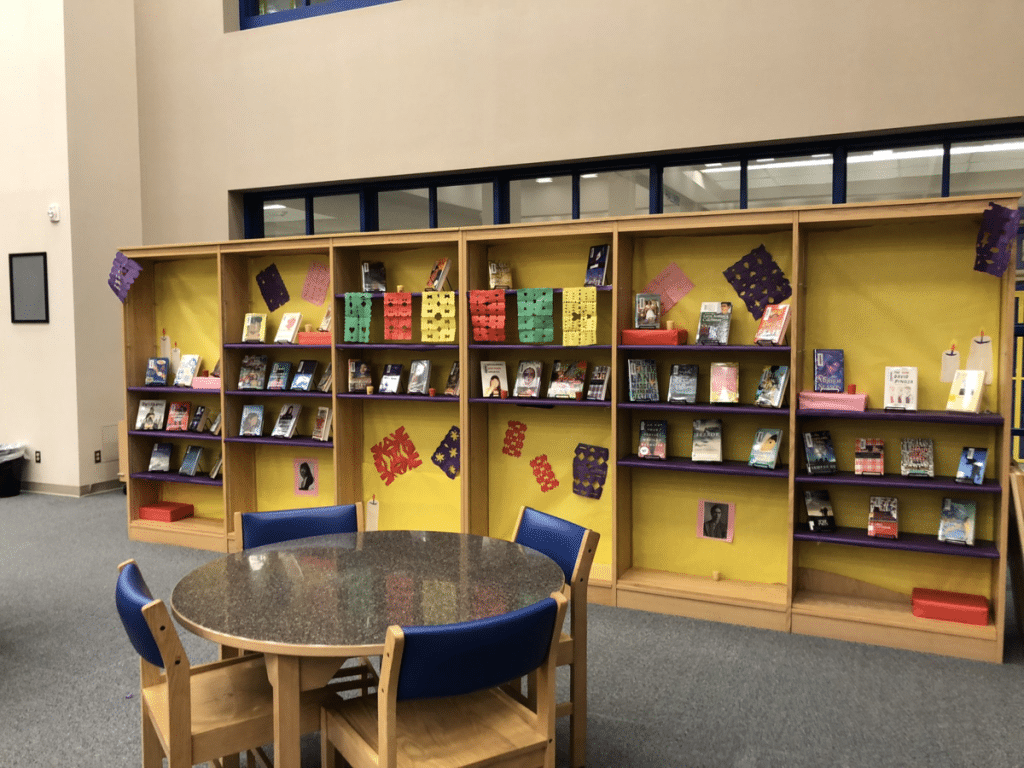 Our school libraries set up special sections to highlight Hispanic Heritage Month.  The Elkins Spanish National Society in Fort Bend ISD decorated shelves (left), and Budewig Intermediate in Alief ISD invited students to tables to learn about Hispanic and Latin countries (right).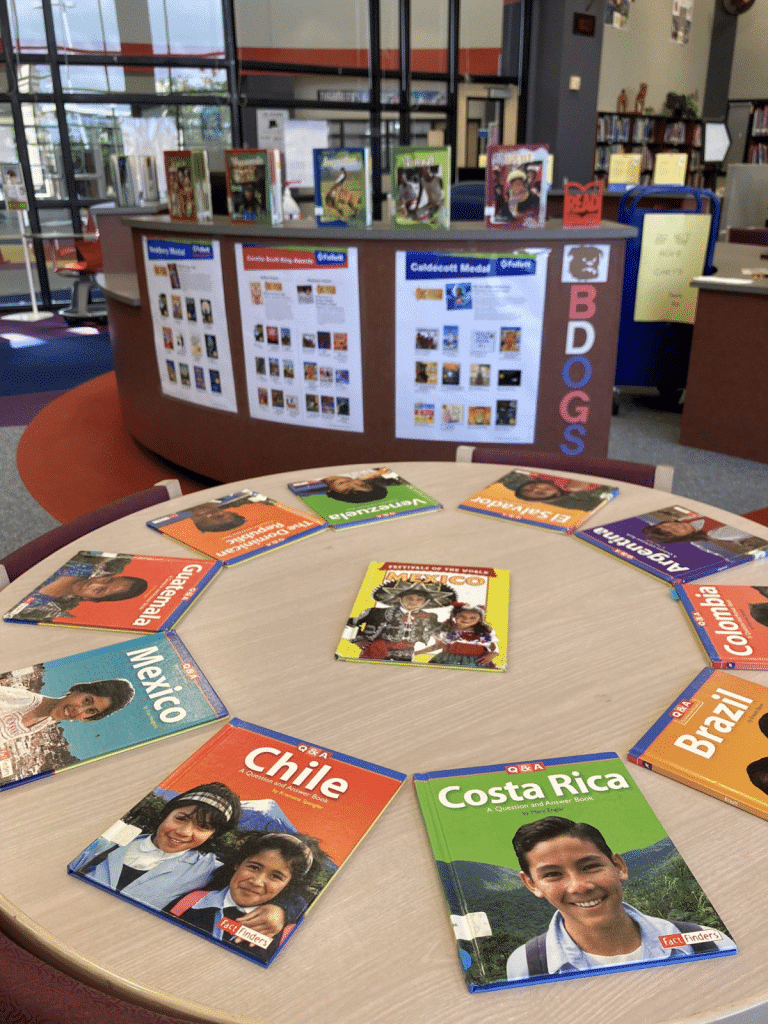 How can we participate in honoring National Hispanic Heritage Month?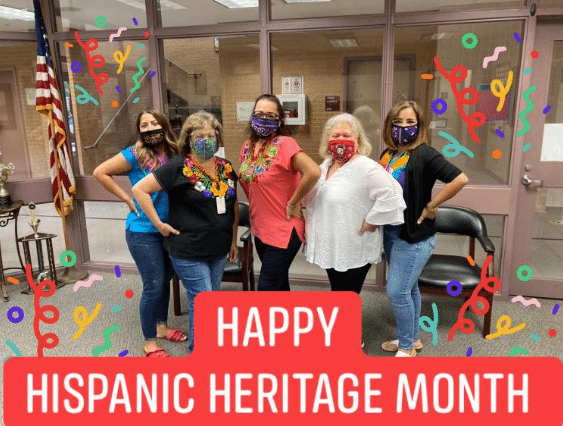 There are so many fun ways to celebrate Hispanic Heritage Month.  Many of our schools engage students in Hispanic Heritage Month through culturally relevant activities and lessons.  Here are a few more ideas for you and your family:
-Stream creative and informative Latino movies for free at PBS.org, or search the expansive Hispanic Heritage category on Netflix.
-Check out the Library of Congress's National Hispanic American Heritage Month page.
-Visit local museums in person or virtually. UTSA offers an extensive selection of virtual presentations and Q&A's throughout the month devoted to the theme "Esperanza: A Celebration of Our Heritage and Bold Future".
-Remember to support local Hispanic businesses in the community.  It is a great way to aid the local economy while exploring Hispanic American culture.