Within Judson ISD, the Innovation Department offers specialized, open-enrollment school models and programs across the district for students from elementary to high school. These unique models provide students with individualized opportunities for success, both inside and outside the classroom.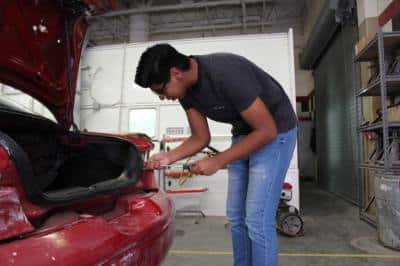 The Innovation Department aims to serve the JISD community in three ways:
by expanding the number of inventive, imaginative school options available to students;

raising the percentage of students in high-quality, best-fit campuses; and

increasing the academic achievement of all students.
The department is launching its newest innovative campus, Pathways and Technology Early College High School (P-TECH), in the fall of 2023.
The P-TECH program at JudsonHigh School is in partnership with Alamo Colleges and other industry partners with a mission to create industry and college pathways for students focused on in-demand careers. When the program launches in the fall, it will offer three specialty programs: Automotive: Collision Repair, Pre-Dental and Pre-Nursing.
P-TECHs are innovative open-enrollment high schools that offer a career focus with a work-based education. Through the open-enrollment high school, students have the opportunity to receive both a high school diploma and a credential and/or an associate degree. After the announcement of the upcoming launch, P-TECH received over 100 applications from students across the district.
The Pre-Nursing program has an agreement with Northeast Methodist Hospital, which will allow students to visit the hospital in groups of 10, accompanied by a teacher.
The innovative open-enrollment programs are open to students across the district, not just at the school a student is zoned for, and the district will provide transportation from the closest high school to the P-TECH program.
For more information about JISD's Innovation Department, visit the website here. To learn more about the innovative campuses throughout the district, click here.
By: Cass Garza, Intern, UTSA
Source: Story by Summer El-Shahawy with Community Impact's Storytelling team