CTE Manufacturing Cluster includes machinery mechanics, manufacturing technology, and welding.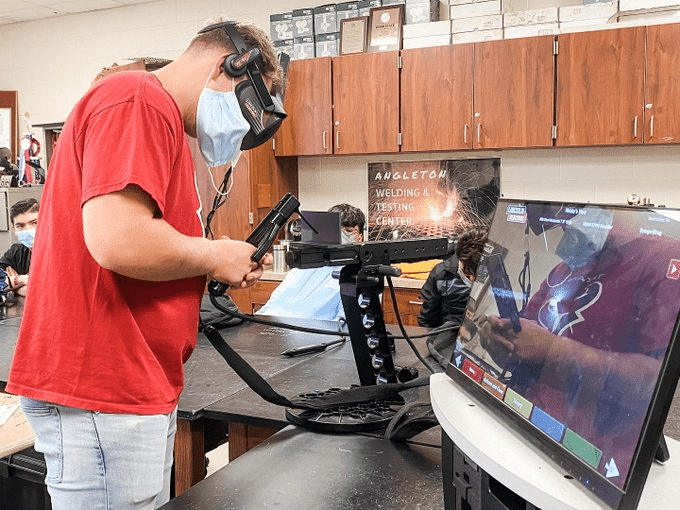 Manufacturing CTE programs prepare students for manufacturing jobs as a sheet metal welder, electronics technician, or process engineer.
The Manufacturing Career Cluster focuses on the processing of materials into products.  Students learn related technical support like production planning, maintenance, and process engineering.  Students in high school can gain experience in the manufacturing field by joining organizations like SkillsUSA or the American Welding Society, or they can opt to intern or job shadow a machinist or welder.
Advanced Manufacturing and Machinery Mechanics
Advanced Manufacturing and Machinery Mechanics programs focus on electromechanical systems and equipment.  CTE students can gain skills and experience in mechanical fields of robotics, oil pipeline systems, ocean exploration, or hazardous waste management. 
Students in high school can earn certification as FANUC Robot Operator, Mastercam associate, or NCER industrial maintenance mechanic. 
Manufacturing Technology programs of study concentrate on computer-controlled machines that work on metal or plastic. CTE students can learn to operate and repair production machines and tools, as well as how to use hand-welding equipment.
Students can work toward certification as MSSC certified production technician, electronics technician, Mastercam professional, or NIMS industrial technology maintenance.

Manufacturing Technology Jobs
Careers in Manufacturing Technology include Mechanical Engineering Technician, CNC Machine Operator, Aerospace Engineering Technician, Industrial Engineering Technician, and more.
Both industrial engineering and process engineering are involved in the manufacture of products. Industrial engineers focus on the manufacturing process while process engineers work on improving the engineering design process and product design, changing the materials to be used, and revising the manufacturing technology used. (BAC)
CNC router machine operators are in demand as CNC machining grows. Under the direction of CNC Operators, CNC machines produce consistently satisfactory products, which means that waste material is significantly reduced and costs are lowered.
Welding programs focus on the use of computer-controlled machines, robots, and tools to work on plastic or metal.  CTE students learn to make or repair tools and how to use hand-welding or flame-cutting equipment in welding classes.
Students can become an AWS Certified Welder or earn welding certifications in ASW Sense Level 1 and NCCR welding.

Types of welding jobs can include Welder, Solderer, or Welding Machine Setter/ Tender.

Students can learn how to weld or how to solder starting in high school CTE programs.  They can begin welding training to become a TIG welder, stick welder, ARC welder, and/or MIG welder by learning the basics of welding.  Students can gain hands-on experience learning about the safe and proper use of welding supplies like a welding table, a sheet metal brake, oxy-acetylene, soldering irons, and sheet metal while studying welding symbols and safety protocols.
Lean Manufacturing, Six Sigma, PLC Training
Training and certifications in the manufacturing industry can be helpful in preparing for and securing a job in manufacturing. Lean Manufacturing, Six Sigma, Lean Six Sigma certification, and PLC training prove that a potential employee has the knowledge and skills to succeed in the field.
Sources and Additional Information on the CTE Manufacturing Cluster:
Explore regional CTE programs