East Central students at Heritage Middle School recently had the privilege of immersing themselves in Texas history with a visit to the Bullock Texas State History Museum in Austin.
The seventh-grade Humanities students, motivated by their passion for history, were awarded scholarships that allowed them to witness the museum's featured presentation, "The Star of Destiny," and to explore the museum's engaging exhibits. This exciting experience will serve as a valuable source of inspiration for their National History Day projects, which they are currently working on, focusing on the regions and Native peoples of Texas. Their teachers, Mr. Hydock and Mrs. Garcie, couldn't be prouder of these young historians.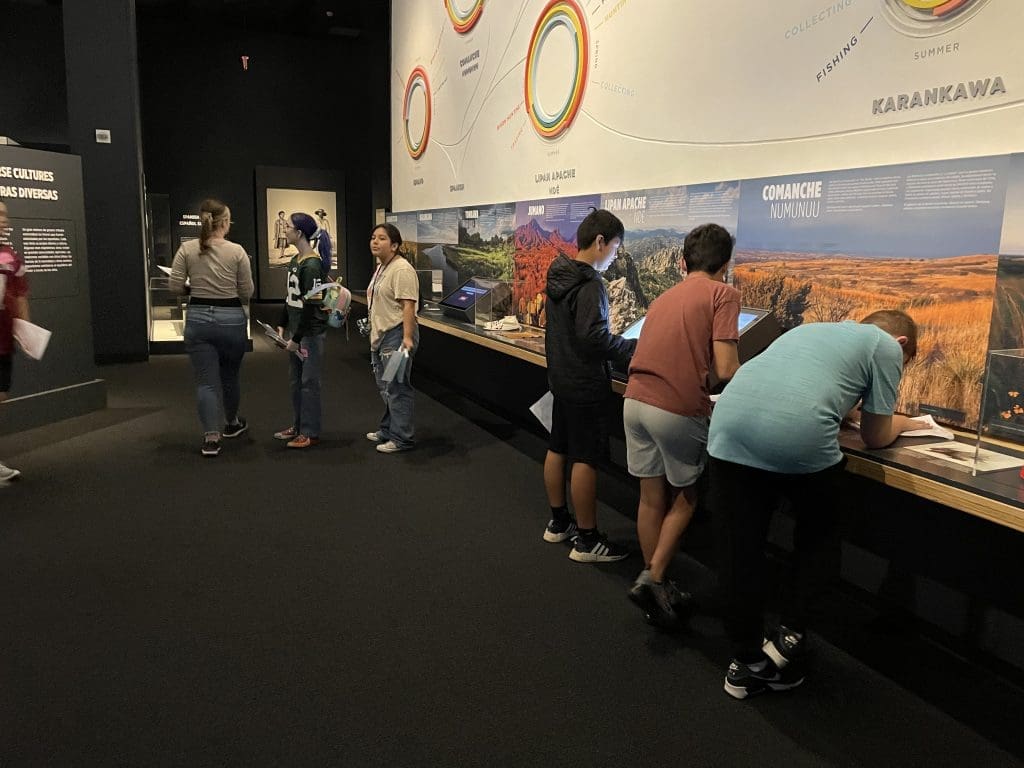 Texas History Day: Unveiling a World of Knowledge
Every year, thousands of students across Texas participate enthusiastically in the National History Day program, with Texas History Day serving as an affiliate of this highly esteemed academic initiative for students in grades 6 through 12. The program sees over 65,000 Texas students, uniting with more than 500,000 peers across the nation, embracing the exploration of history through their unique projects.
Texas History Day offers a well-structured framework for students to embark on successful history projects. Students begin by selecting their projects aligned with the annual theme and adhere to established guidelines. They delve into historical topics related to the theme, conducting thorough research using both primary and secondary sources. Their projects take various forms, from research papers and exhibits to performances, websites, and documentaries.
These remarkable student projects are not confined to the classroom; they are entered into competitions held each spring at regional contests across Texas. It's at these contests that the exceptional work of these young historians is judged by a panel of educators, professors, museum staff, and historians. Those who achieve victory at the regional level advance to the state contest held in Austin. First and second-place winners at the state level earn the opportunity to participate in the National Contest, held each June at the University of Maryland in College Park. Here, they compete on a national stage alongside the finest history projects from across the United States, American Samoa, Guam, International Schools of Asia, and Department of Defense Schools in Europe.
Beyond History: Building Skills for Success
The journey through Texas History Day not only acquaints students with the past but also equips them with a toolkit of essential skills critical for their future endeavors. Through this program, students develop skills such as critical thinking, problem-solving, project management, research and reading, teamwork, oral and written communication, and self-esteem and confidence. These skills are invaluable as they progress in their academic and professional lives.
Students involved in Texas History Day also have the opportunity to explore the exciting world of history, as it encourages them to become active participants in the study and preservation of our past. This approach fosters a deep understanding of history and a genuine passion for uncovering the stories of our ancestors.
Contest Information: Honing Tomorrow's Historians
National History Day (NHD) sets the stage for student project development. Students adhere to NHD's annual theme and rules, fostering a wealth of educational opportunities. NHD is an open competition for students ranging from 6th to 12th grades. Participants may qualify for special awards at the contest. In addition, the top entries in the paper category may see their work published in the Texas Historian, the official journal of the Junior Historians of Texas.
Once students have selected a historical topic related to the annual theme, they embark on a journey of primary and secondary research. This phase of their work prepares them to create their projects, which may take the form of research papers, exhibits, performances, documentaries, or websites. All categories except papers can be collaborative efforts, involving groups of two to five students.
Come spring, students have the opportunity to submit their projects to regional contests. The projects are scrutinized by a panel of educators, professors, museum staff, and historians. Exceptional entries move on to the state's NHD contest. Those who earn top positions at the state level gain the privilege of participating in the National History Day Contest at the University of Maryland in College Park. This nationwide contest brings together the best projects from across the United States and beyond.
In summary, Heritage Middle School's students had the chance to breathe life into history at the Bullock Museum. The experience not only enriched their understanding of Texas's past but also ignited their passion for exploring history. Their journey through Texas History Day promises to be an exciting and educational adventure, cultivating a deep appreciation for the past while fostering skills that will shape their future successes. As they continue their research into the regions and Native peoples of Texas, these young historians stand poised to make a lasting impact on the study of history.
Source: East Central ISD, National History Day Website
By: Kamryn Lewis, Intern, USA