La Vernia ISD Offers FFA Chapter to Agriculture Students
La Vernia ISD Junior High Principles of Agriculture, Food, and Natural Resources class receives a visit from La Vernia FFA students officers to learn more about their FFA program!
La Vernia ISD's FFA Chapter
La Vernia ISD offers students the opportunity to join their local FFA chapter within the school district. Eighth grade students at La Vernia Junior High enrolled in Principles of Agriculture, Food, and Natural Resources met with La Vernia FFA student officers to learn more about the FFA program. Students were informed of the many activities involved and different routes they could take within the organization, whether that be hands-on with livestock, working with crops in agriscience, or learning about the agribusiness side of agriculture. Students interested in the wide range of the agricultural field are encouraged to join the FFA organization and take advantage of their experienced training and scholarship opportunities.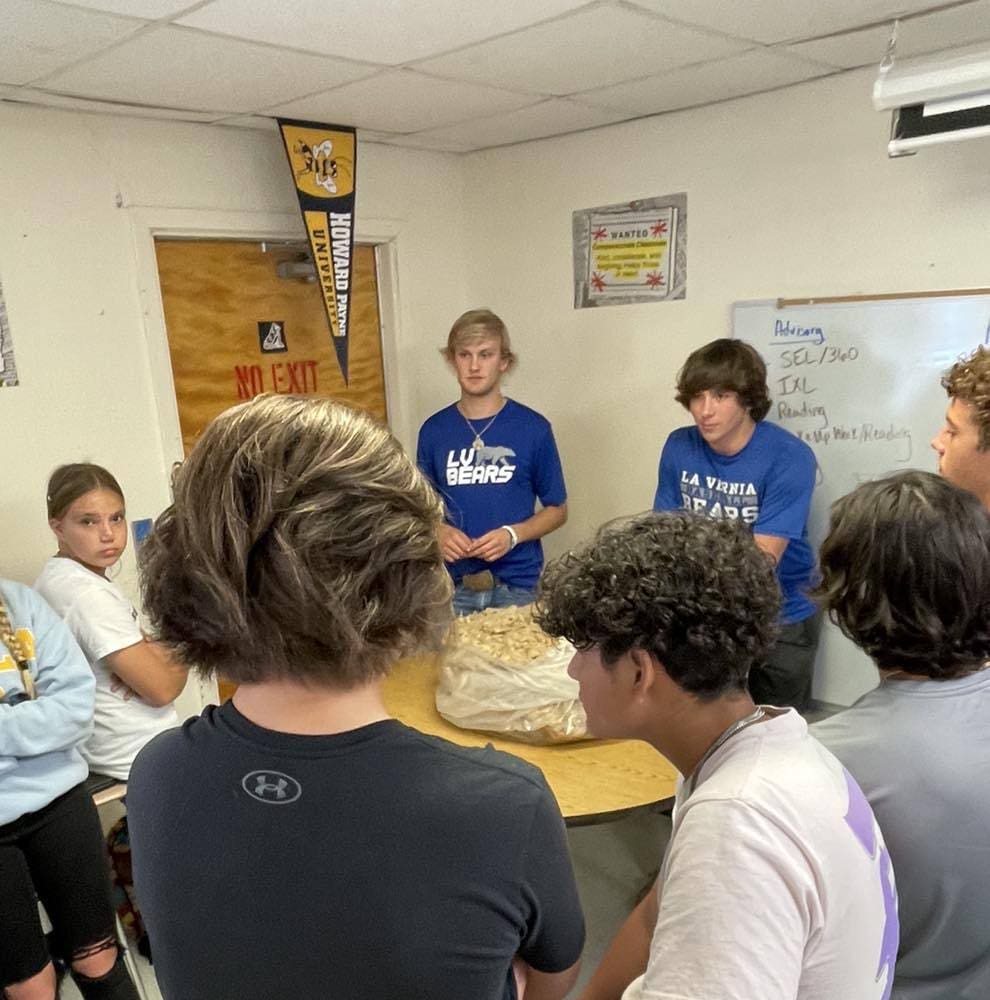 The FFA program is not limited to students interested in farming, raising livestock, or even agriculture. FFA is an inclusive educational chapter that teaches students a variety of skills that they may use in the real world. The purpose of the program is to give students hands-on learning that will allow them to explore their interests and gain experience for their future careers. "Supervised Agricultural Experiences, SAE's, provide these experiences through entrepreneurship, internship, or job placement; research or experimentation; and exploring new career opportunities" (Tyler Root). Other opportunities within the program include participating in competitive contests called Career Developmental Events, which include "environmental and natural resources, horticulture, food science, ag communications, and farm business." The purpose of CDE's is to allow students to test their knowledge in a real-world setting. Any student interested in being a part of a team, learning more about the field of agriculture, or looking to gain real-world hands-on experience, is encouraged to join FFA!
FFA is an acronym that stands for the Future Farmers of America; It is an agricultural program offered to youth so that they may explore the world of agribusiness while also forming lasting relationships with their team, making connections within the field, and building leadership skills that will last them a lifetime. The organization prides itself on allowing their students to cultivate their own interests and help guide them on their future career path. "FFA continues to help the next generation rise up to meet those challenges by helping its members to develop their own unique talents and explore their interests in a broad range of agricultural career pathways. So today, we are still the Future Farmers of America. But, we are the Future Biologists, Future Chemists, Future Veterinarians, Future Engineers and Future Entrepreneurs of America, too" (FFA.org).
Blog Post by: Katya Coquat
Sources: