National Pharmacist Day is January 12th, and we are exploring introductions to pharmacology careers and our public school CTE Pharmacy programs.  High school students can attend pharmacy courses while obtaining a pharmacy technician license, ensuring a high-demand and rewarding job right after graduation.
CTE Health Science Cluster
TEA's Health Science Career Cluster focuses on creating, managing, and providing therapeutic services, diagnostics services, health information, support services, and biotechnology research and development. Students who wish to pursue a health science career learn to reason, make decisions, think critically, solve problems, communicate effectively, and work well with peers.  The Health Sciences Career Cluster covers a vast array of healthcare topics which includes pharmacy science and pharmacology.
The study of pharmacology incorporates knowledge and skills from numerous sciences such as physiology, cell and molecular biology, and biochemistry. Pharmacologists translate their knowledge of these sciences into the development of certain therapeutics. Pharmacologists' training offers a unique perspective in solving drug, chemical, and hormone-related issues. (UTSA- Long School of Medicine)
TEA states that Pharmacology CTE courses are designed to study how natural and synthetic drugs affect biological systems. Therapeutic agents and knowledge of their properties are vital in providing health care in an ever-changing world of information. 
Jobs in the field of pharmacy are extremely important and in demand.  From pharmacy aide to pharmacologist, there are numerous levels of specialization within the pharmacy industry.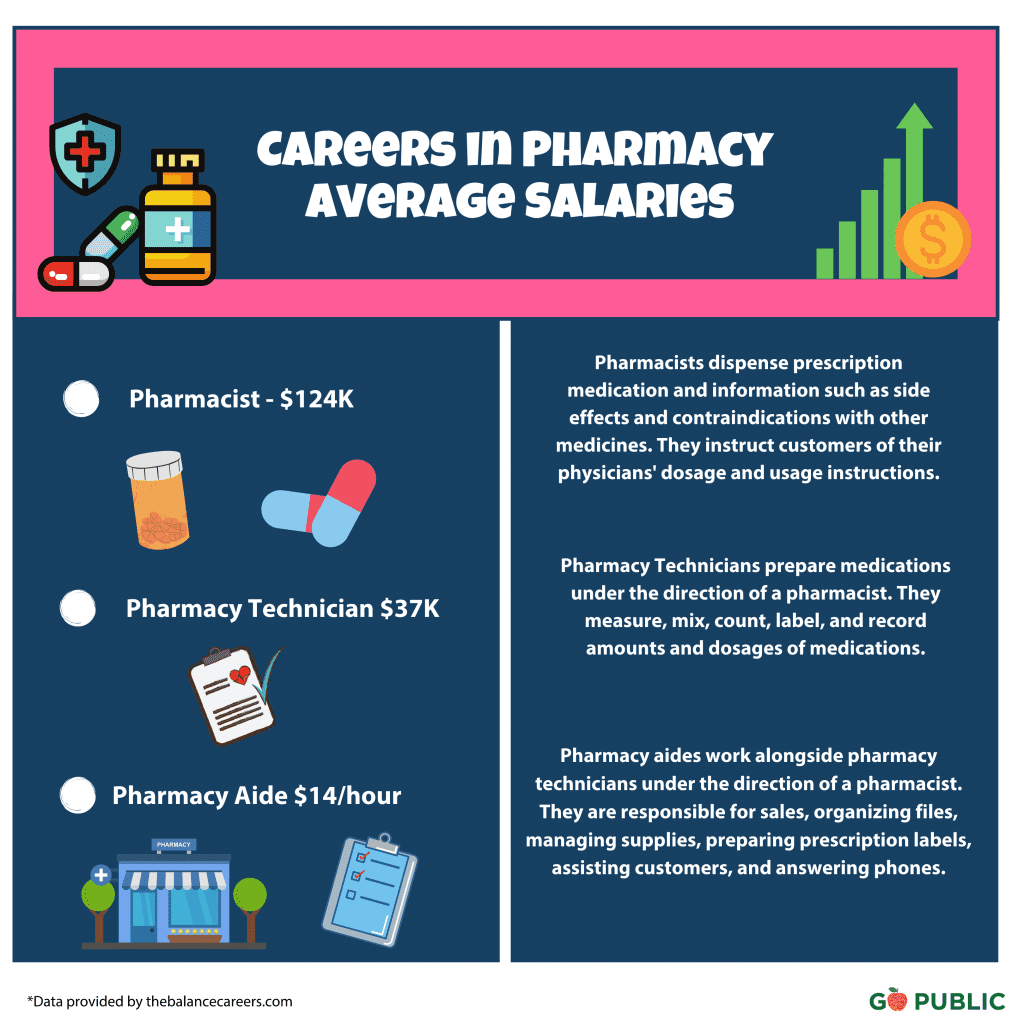 What Does a Pharmacist Do?
Pharmacists dispense prescription medication and information such as potential side effects and contraindications with other medicines. They instruct customers of their physicians' recommended dosage and usage instructions.  Pharmacists make an annual salary of around $124,000. (The Balance Careers)
Pharmacy Technicians
Pharmacy Technicians prepare medications under the direction of a pharmacist.  They measure, mix, count, label, and record amounts and dosages of medications.  The Pharmacy Technician certification exam assesses the skill attainment of students in performing tasks such as: receiving prescription requests from patients and doctors' offices, accurately measuring medication amounts, packaging and labeling prescriptions, establishing and maintaining patient records, accepting payment for prescriptions and processing insurance claims, and managing inventory.  According to the U.S. Bureau of Labor Statistics, pharmacy technician jobs over the next decade are projected to grow faster than average.  The demand for prescribed medication, an aging population, and a higher incidence of chronic diseases such as diabetes will increase the availability of jobs in pharm tech. A Pharmacy Technician's salary is approximately $37,000 per year.  (The Balance Careers) 
Pharmacy Aides
Pharmacy aides work with pharmacy technicians under the direct supervision of a pharmacist.  They are responsible for sales, organizing files, managing supplies, preparing prescription labels, assisting customers, and answering phones. Unlike pharmacy technicians, aides don't fill prescriptions.  Pharmacy aides make about $14 per hour. (Zip Recruiter)
Pharmacy CTE in Our Public Schools
At Klein High School in Klein ISD, CTE Pharmacy Technician students take advantage of their grant-sponsored, in-house mock pharmacy.  Pharm Tech students have the opportunity to learn their craft in a realistic, hands-on environment. These students will graduate as certified pharmacy technicians. Other CTE health industry pathways at Klein High School, including advanced nursing and EMT basic programs, benefit from the use of the mock pharmacy. 
Alief Independent School District students can jumpstart into the healthcare field and earn an associate's degree and career certification in pharmacy tech training.  The Alief Life Sciences Innovative Academy (ALSIA) pharmacy program teaches students the names, doses, uses, and side effects of medications, record keeping, pharmaceutical techniques, and pharmacy law and ethics.