Highlighting STEM and STEAM Education
National STEM/STEAM Day was observed on November 8, 2021.
STEAM (Science, Technology, Engineering, Arts, and Mathematics) education is a method of hands-on teaching and learning.  Students learn by creatively solving real-world problems with innovative thinking to prepare for future career opportunities. (TEA)
Northside ISD 3rd Grade STEM/STEAM students work on a silent, hands-free cup stacking challenge.  This is the 1st year for the Ward Elementary  campus STEM classroom!
STEM and STEAM in Texas Public Schools
Labor projections indicate that Texas is expected to have the second-highest percentage of the nation's future STEM job opportunities!
The Texas Education Agency developed a STEM Framework as a guide for STEM programming in order to prepare Texas students for this future workforce.  Additionally, TEA is establishing a Texas EcosySTEM.  This EcosySTEM is a collaborative effort uniting numerous stakeholders to work toward increasing access to STEM-rich learning environments.  
SHANNON GARCIA, STEM teacher, Linton Elementary School, Northside ISD

STEM at Linton Elementary is engaging and fun! First-graders use the engineering design process to create marble mazes.
STEM Efforts in the San Antonio Area
The Alamo STEM Ecosystem is a county-wide commitment to provide Bexar County STEM/STEAM experiences for all students, including those students traditionally underrepresented in STEM/STEAM. The Alamo STEM Ecosystem focuses on equity and innovation in the community by aligning and connecting efforts. 
Current Alamo EcosySTEM projects include STEM Professional Development Day, increasing participation of 8th-grade students selecting the STEM Endorsement as they transition to high school, Boeing STEM Signing Day, and a community STEM Asset Map.  Alamo STEM Ecosystem is also partnering with Mexico's Movimiento STEM on projects like student exchange programs and Chief Science Officers.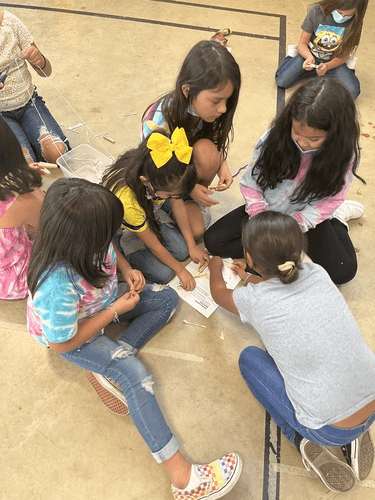 Southwest ISD 3rd and 4th grade students work together to design a spooky bone bridge. Using only the materials provided, students work together using prior knowledge of bridge structures to construct a bridge from Q-tips, yarn, sticks, and pipe cleaners.
The "4Cs" take center stage during all STEAM challenges to encourage students to think critically, communicate, collaborate, and be creative.
Galena Park ISD's future electrical engineers collaborate to build both series and parallel circuits. The 5th-graders compare the two types of circuits to understand how each works.
At Brookside Intermediate School in Clear Creek ISD, the STEAM Squad Club builds scenes with Legos to film stop motion stories.