By Trina Pruitt, parent and Go Public contributor
I am usually very organized regarding my kids' schools and schedules.  I get super excited when the new academic calendar for the district is posted, and I happily enter all the relevant dates into my calendar app.  But I've noticed that there are a few "no school" days that surprise me. They are not days  designated on the district calendar as days off.  On the individual schools' websites, they were posted as "DOI" days, and those days varied between schools within my district. That explained the calendar discrepancy, but what did "DOI" mean in relation to the district, the schools, the calendar, and the kids?  Other parents I asked had no idea or had never heard of the term either, so I did the research. 
What is a District of Innovation (DOI)?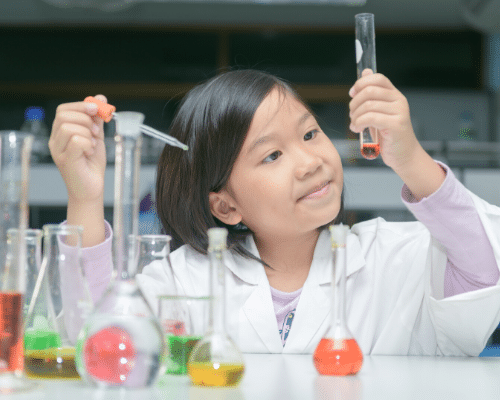 What does DOI stand for?
DOI, or District of Innovation, is a law passed by the Texas Legislature in 2015 that gives traditional public school districts many of the flexibilities available to open-enrollment Texas charter schools. The legislation is intended to give districts more local control to suit their individual needs.  The Texas Education Agency does not have the authority to approve the innovation plan of a school district. That means there is local control over the DOI standards so that each school can pursue the best options for their individual students and staff.
DOI Plans= Local Control
Regarding the necessity of the DOI program, James Crow, Executive Director of the Texas Association of School Boards stated that "Texas school board members and administrators have complained about the ever-increasing number of state mandates and prescriptive laws and bemoaned the continual erosion of local control. Now there is a realistic process for districts to do something about this."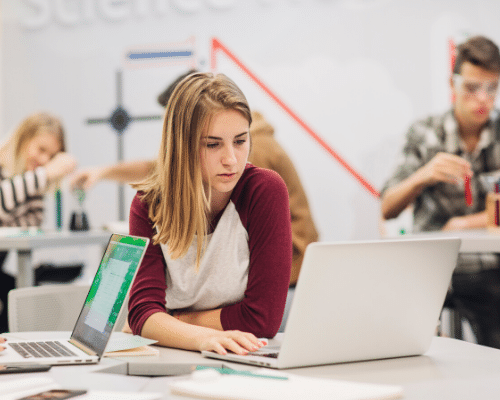 About 80% of traditional Texas public school districts now have a District of Innovation certification which gives them an option to exempt themselves from certain state laws. The most popular exemptions that are used involve the school calendar, class-size ratios, disciplinary provisions, student attendance, teacher planning periods, and teacher appraisals.  Other favored electives include curriculum innovation like advanced instructional methods and district accountability that exceed existing legal requirements. The districts can choose to allow more individual campus governance to include community and parental needs. They can be more in control of budgets and program funding.  
DOIs can also hire educators for hard-to-fill positions in areas such as math, science, engineering, and foreign languages.  The added flexibility allows the district to provide exciting project-based programs that might not otherwise be offered.
Why Support the Innovation District Plans?
This opinion from Midland ISD Superintendent, Orlando Riddick, explains one reason so many districts support the DOI program.  He states, "One example of the benefits of a District of Innovation is allowing key industry experts with a tremendous wealth of experience and knowledge in a specific area, such as welding, culinary arts, oil, and gas, etc. to come into the classroom and enrich our curriculums. Without District of Innovation status, non-teacher-certified professionals are not allowed to teach even though they may have decades of experience in their field." (Midland Reporter-Telegram 2017)  Educators would still be subject to background checks, continued training, and on-the-job certification achievement, and students would still be required to complete all mandatory state testing like the STAAR test. This type of flexibility and choice allows the school to meet the needs of its students while staying in compliance with the state's educational requirements for graduation. To read a full and detailed example of a DOI plan, read San Antonio's Edgewood ISD DOI plan.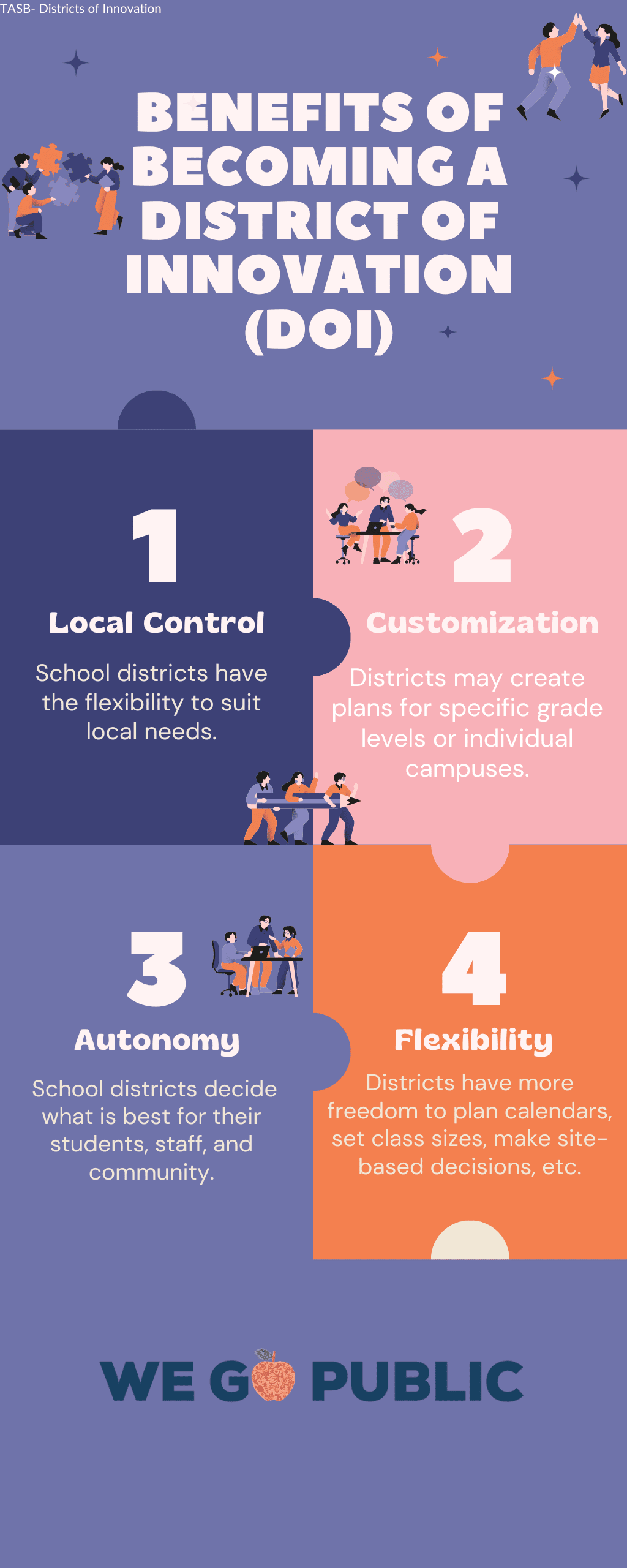 How do districts qualify for a DOI certificate?
To achieve District of Innovation status, a school district's academic performance rating must be deemed acceptable. This means a district performing with an unacceptable preliminary accountability rating is not able to adopt an innovation plan until they improve their rating.
Districts must also maintain financial integrity. The School Financial Integrity Rating System of Texas ensures that every public school in the state is held accountable for its financial practices, and districts must uphold a satisfactory financial assessment to maintain eligibility compliance in the DOI program. 
There are pros and cons in some of the information I found, but our public school districts are clearly enthusiastic about the differences that the DOI distinction can make for their schools.
One of the most popular initiatives regarding the school calendar allows for an earlier start to the year in order to offer a full week off at Thanksgiving, two weeks at Christmas, and a week in the Spring, as well as several additional teacher development days.  For me and my kids, those extra days off during the school year help to alleviate mental fatigue, recharge and reinvigorate a desire to attend school, and allow for extra time to work on projects and homework- not to mention easing the holiday and vacation travel stress! 
But besides just the calendar benefits, The District of Innovation standards are meant to help provide individual plans that are specific to each district, each campus and community, and each student and staff member.  It is another way that our public schools can offer personalized learning experiences to our unique children.
Find the Link to your District's DOI Plan:
Find more information here:
Complete list of the DOI school districts in Texas: