Substiture Teachers Lend Valuable Services to Public Schools
One Go Public Intern writes about her experience as a substitute teacher and why it is such a crucial part of the success of our schools.
-by Kendall Najvar, Go Public Intern
Substitute Teachers Needed!
You may have heard of the national substitute shortage that many school districts unfortunately face in the education world today. There are many different factors that play into this shortage, exemplifying the greater need for substitutes. Substitute teachers are often overlooked in the school system, yet their performance is pivotal. 
As a former substitute teacher, I have hopes in sharing all of the wonderful things I have learned and observed to those who have interest in becoming a sub or are not entirely sure what it is all about. 
Through this blog, I will  focus on why the role of substitute teachers is influential for a smooth and steady school year for the districts, as well as the perks of becoming a sub. 
The Importance of Substitutes in Schools
So why ARE substitutes crucial? Well, let's highlight some of the many reasons their role makes a positive difference in education.
Substitutes allow teachers a sense of comfort if they miss school days.
There is no better feeling for a teacher than knowing that if missing a day of work is needed, IT IS possible. We all face sudden emergencies, sicknesses, or fatigue, including full-time teachers. Substitutes allow this flexibility, lifting the stressful weight off of teachers when absent from their classrooms. 
Substitute teachers manage learning and safety in the classroom.
Substitute teachers are perfect examples of great multi-taskers! The safety of students is the number one priority, followed by learning. It is highly important that students are always under supervision in the classroom while engaging in their studies. 
Substitutes provide the right education when a teacher is absent. 
Continuing to move forward in the classroom is essential to students and their teachers. Substitutes are able to efficiently organize, communicate, and distribute the correct assignments and instructions for students in the event that their teacher is absent. 
Subs are flexible to the needs of the school.
Oftentimes, there are multiple teachers out of their classrooms each day. When the teacher-to-substitute ratio is uneven, substitutes provide the flexibility to be in more than one classroom daily. In addition to working in a classroom, substitutes also assist with events or other daily responsibilities such as after-school pick-up or lunch duty. 
Substitutes encourage students from all different grade levels.
One of the most unique parts about being a substitute teacher is the wide age range of students they are able to work with. Every day brings new challenges and requires different abilities. Substitute teachers have the pleasure of touching students of all grade levels K-12.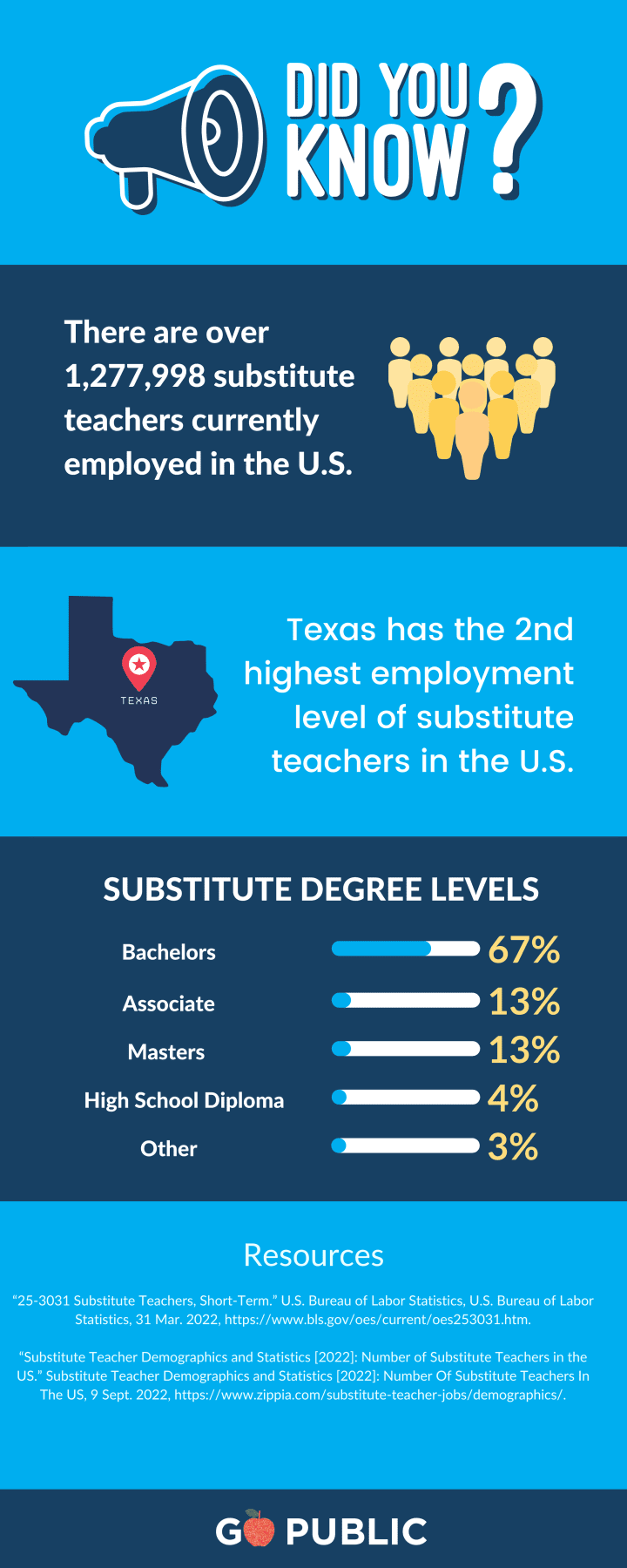 A Day in the Life of a Substitute Teacher
A day in the life of a substitute teacher is a hard one to predict as it depends on the school, grade level, and community. I relate substitute teaching to the first day at a new job, but without the nerves. Your job remains the same, yet you are presented with new faces and environments daily.
What to expect in the classroom
Although there are many changing aspects to substitute teaching there are numerous consistent variables to be prepared for in the classroom, including lesson plans, student rosters, assignments, Chromebooks, and of course your students for the day. Technology is continuously growing in the education world making it easier for students and teachers to connect in and out of the classroom. For substitutes, this creates smooth and easy assignment instruction for students who will have classwork provided electronically. If this is not the case, the substitute will normally be asked to assign traditional classwork to students. 
Maintaining behavior
All school districts and campuses keep their substitute teachers educated on how to deal with certain behaviors during the school day. The behavior of your students is the most unpredictable aspect of subbing. Luckily, teachers oftentimes have structured outlines or specific instructions for students in various scenarios. It is important to leave both positive and negative notes for the primary teacher of the classroom in regard to their students' behaviors.  
Support from colleagues
Support from the campus community is another important aspect of working as a substitute. Feeling welcome and knowing what resources are available on each campus is beneficial to the substitute experience. Teachers and administration are always more than happy to answer questions and keep substitutes informed throughout the workday. There is a huge understanding and appreciation for the role of substitutes. I felt both of these things during my experience as a substitute teacher. 
Impact on students
One of the most touching aspects of substitute teaching is when you leave a positive mark on the kids. Educators have an immense impact on their students in and out of the classroom. Although substitutes are between different classrooms each and every day, students WILL remember you and the influence you had on them that day. Two of my favorite parts of substitute teaching were hearing "Hi Miss. K" in the hallway, and the excitement they clearly felt when they saw me in their classroom for the day. In those moments, I knew I had touched them just as much as they had touched me. 
Considering Becoming a Substitute?
Who can become a substitute teacher?
Requirements for substitute teachers can vary from district to state. In my experience working in public schools, the district offered both a certified and non-certified application. The hiring process is relatively easy as you submit an application, complete fingerprinting, and attend an orientation. Orientation consists of substitute information, requirements, emergency protocol, and other possible components specific to the school district you are subbing for.  If you want to learn more about substitute teaching, check out your preferred school district's career page. 
Questions to Ask Yourself About Substitute Teaching
Every profession comes with its own pros and cons. It is hard to grasp what others experience in their careers aside from your own. As a college student who still jiggles back and forth between different career paths, my experience in substitute teaching has answered not only REAL, but RAW questions I have wondered about the education field.
What do I not like about this job?

What do I LOVE about this job?

Do I see myself doing what I observe other teachers doing around me?

What are other teachers' thoughts on their teaching experience? 

What does a school day look like for a teacher of different grade levels?
For those who have interest in working in the education world, I would recommend giving substitute teaching a go. It is a perfect way to answer your own questions about the career and gain hands-on experience without the full commitment. 
A Relatable Story of a Sub
Through my work as an intern with Go Public, and my exposure to social media, I have remained educated on what goes on throughout the school districts of San Antonio. Each story I have engaged with has impacted me in a positive way, but one specific story of another substitute teacher really resonated with me. It's the story of a substitute teacher, Mrs. James who made a great impact on the students of North East ISD. Reading the article It's bigger than academics for this educator, posted on the NEISD website, Mrs. James stated, "I talk to the kids. I am honest with them. I tell them why they are here. I try to make what they are doing relevant to today and their future." As well as, "I treat these kids like my own and I think they feel that I care for them. I guess they pick up on that." 
Mrs. James's story hit close to home with me as I felt similar feelings towards the students I worked with as well. It is also a warm feeling for everyone in the community to have such kind-hearted and inspiring educators- including their SUBSTITUTES! 
Showing Appreciation for Educators
Substitute teachers deserve the utmost recognition for the substantial effort and dedication they provide to public school districts. Although the job of a substitute can be exciting and rewarding, it comes with its own obstacles and learning opportunities. A simple smile or thank you goes a long way for our educators today. The next time you have the opportunity to chat with a current or former substitute teacher, or any educator in the public school system, remember to thank them for their commitment to our kiddos!