Eight CFISD elementary schools were selected to advance to the bracket round of competition in the Read to the Final Four reading challenge.
The Read to the Final Four is a bracket-style reading competition that aims to inspire third grade students across the greater Houston area to get excited about reading. The 2022-2023 competition began with more than 39,000 students from more than 390 schools across 11 Houston-area school districts. Frazier, Matzke, McFee, McGown, Owens, Sampson, Swenke and Woodard elementary schools were selected as eight of the top 68 schools and were announced from the Woodard library on KHOU.
The top 68 schools are now grouped into four different "regions." CFISD had more than 2,000 third grade students from 13 different campuses participate in the reading challenge.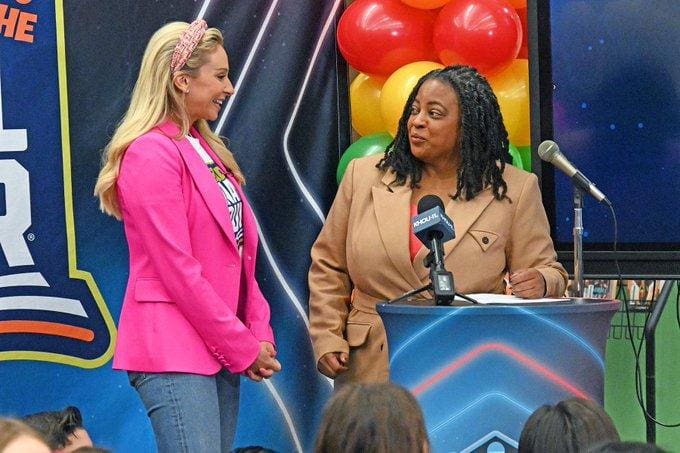 Students have been supported in their reading efforts by campus librarians, administrative teams and the CFISD community.
During the reading competition, students read as a team to represent their campuses and compete to win fun prizes, including a chance to attend the Men's Final Four Fan Fest.
 "The best part about the Read to the Final Four program is how it has promoted a culture of reading in our third grade students," said Jennifer Garstecki, coordinator for library services. "The conversations kids are having about the books they are reading, recommending books to friends, and the pride of representing their school academically is exciting and rewarding. Now that we have eight schools qualifying to move forward in the tournament, it's time to kick it up a notch and rally around them to support their reading journey on the road to the Final Four. I know they are all excited to 'bust some brackets' and keep reading!"
The winning school will receive a trophy and a $5,000 donation. Read to the Final Four was launched during the 2016 Men's Final Four in Houston. 
Source: Facebook